Mac automation meets AI
Use simple English to automate your Mac, from managing files to interacting with other Mac applications through Shortcuts and AppleScripts.
Designed with safety in mind
With ChatPC, you dictate the rules. It's designed from the ground up to ensure your peace of mind.
🛠️ You are in control
By default, ChatPC can't access any of your files or run any Shortcuts or AppleScripts. Only grant permissions to what you're comfortable with.
🛂 Explicit approvals
Ensure even more security by configuring which actions need your approval before executing.
🔐 End-to-end data privacy
Your data is your data. It is never used for training models and all communication between ChatPC and OpenAI are encrypted. See OpenAI's Enterprise Privacy for more information.
---
Integrate seemlessly into your workflows
In addition to the built-in ChatPC chat interface, you can also prompt ChatPC inside your Shortcuts or AppleScripts!
How does it work?
Enable ChatPC to perform actions by adding folders, Shortcuts, and AppleScripts

Prompt ChatPC through the built-in chat interface, a Shortcut, or an AppleScript

ChatPC's AI (powered by OpenAI GPT-3 and GPT-4) decides what actions to take and executes them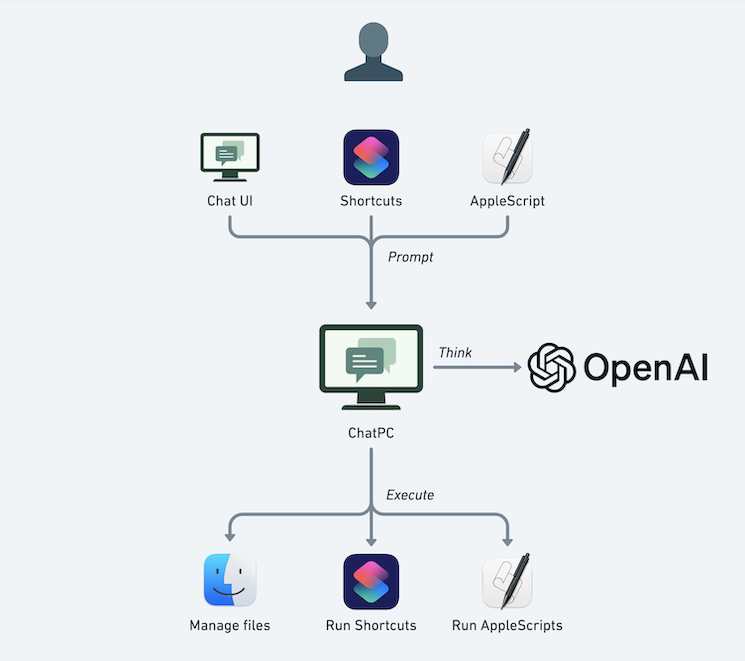 Get started for free!
To get started, check out the MacOS Getting Started Guide (MacOS 13.0 or higher required) or explore our subscription plans.